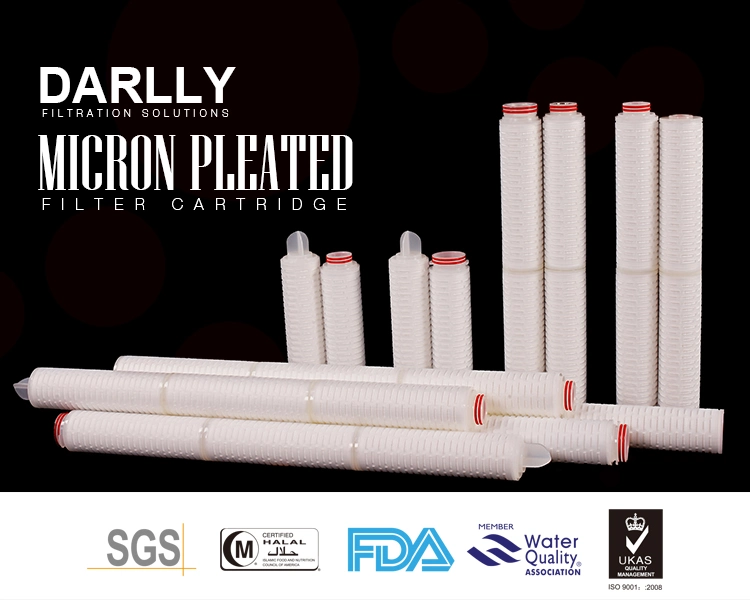 Product Description
pleated filter cartridge is constructed of fine polypropylene media and nonwoven support materials. Adaptors are thermally welded with media without using any glue, so there will be no any possibilities to cause pollution.
Features
-- Excellent chemical compatibility. Suitable for filtering organic solvents, acid bases
-- Pleated design increased the filtration area.
-- Low pressure drop, long service life
-- Full range of removal ratings
Specifications
| | |
| --- | --- |
| Removal ratings | 0.1um, 0.2um, 0.45um, 1um, 3um, 5um, 10um, 20um, 30um, 50um |
| Length | 5'', 10'', 20'', 30'', 40'' |
| Outside diameter | 69mm, 83mm, 131mm |
| Maximum operating temperature | 80 temperature, @1 bar |
| Maximum operating differential pressure | 4.0 bar |
| Maximum operating differential pressure (reverse direction) | 2.0 bar at normal temperature |
| Sterilization temperature time | 5 times, 20 mnute cycles at 120 temperature |
Applications
-- Pharmaceutics
-- Food and beverage
-- Oil industry
-- Semiconductor
-- Chemical industry
Flow Rate vs. Differential Pressure
Order Information
For example:
DLMPP-0100-10-III-S
PP, Rating: 1um, Length: 10", -222/Flat End, seal material: Viton