Quick Details
Condition:
New
Efficiency:
99.8%
Construction:
Panel Filter
Filtration Grade:
Hepa Filter
Medium Material:
Paper
Porosity:
0.3u
Place of Origin:
Hebei, China (Mainland)
Brand Name:
Z& L
Model Number:
4956245312
Dimension(L*W*H):
Standard Size
Weight:
1-2KG
Certification:
ISO9001
Type:
Air Filter
Service Life:
>2000H
Working Pressure:
1.0-2.5Mpa
Filtration Precision:
5-12um
Warranty:
1 Year
Supply Ability:
10000 Piece/Pieces per Week Three Products Lines
Packaging Details
according to customer request
Port TIANJIN
Lead Time :
7 Working days after payment ,not including delivery time
Air filter 6I2501 construction machine filter element
Filter Cartridge Series
I. Polyester fiber air filter cartridge
It is made
of
imported polyester fiber filter material
and
used in the fields such as
powder spraying, sandblasting, paint, wood, and cement.
II. Coated polyester air filter cartridge
It is made
of
imported PTFE coated polyester filter material and
it
has a long service
life,
which can
up to 2 to 3 years in common
operating conditions. It is applied in the
filtration in such areas
like
the weld dust, shot peening casting, pharmacy, cement,
tobacco, textile (e.g. yarn for prevention of coal ash) industries.
III. Antistatic filter cartridge
The filter cartridge is treated with anti-static aluminum coating,
which
is covering
the surface of the filter material with a very thin conductive aluminum coating
with
air permeable, to avoid electrostatic fire. It is used for dust removal in the
explosion-proof working conditions.
IV.
Water-
proof
and oil-proof filter cartridge
The filter cartridge is treated by covering the filter material with a layer of fluorine resin
to prevent water, oil and pollution. It is used
for
filter
ing
wet, greasy or high-concentration dust.
It has a better effect on large-size dry dust.
V. Wood pulp fiber air filter cartridge
It uses air filtration composite filter paper
which
applied in the filtrat
ing
fields such as
gas turbine, compressor, sandblasting, tobacco, fly ash and dust removal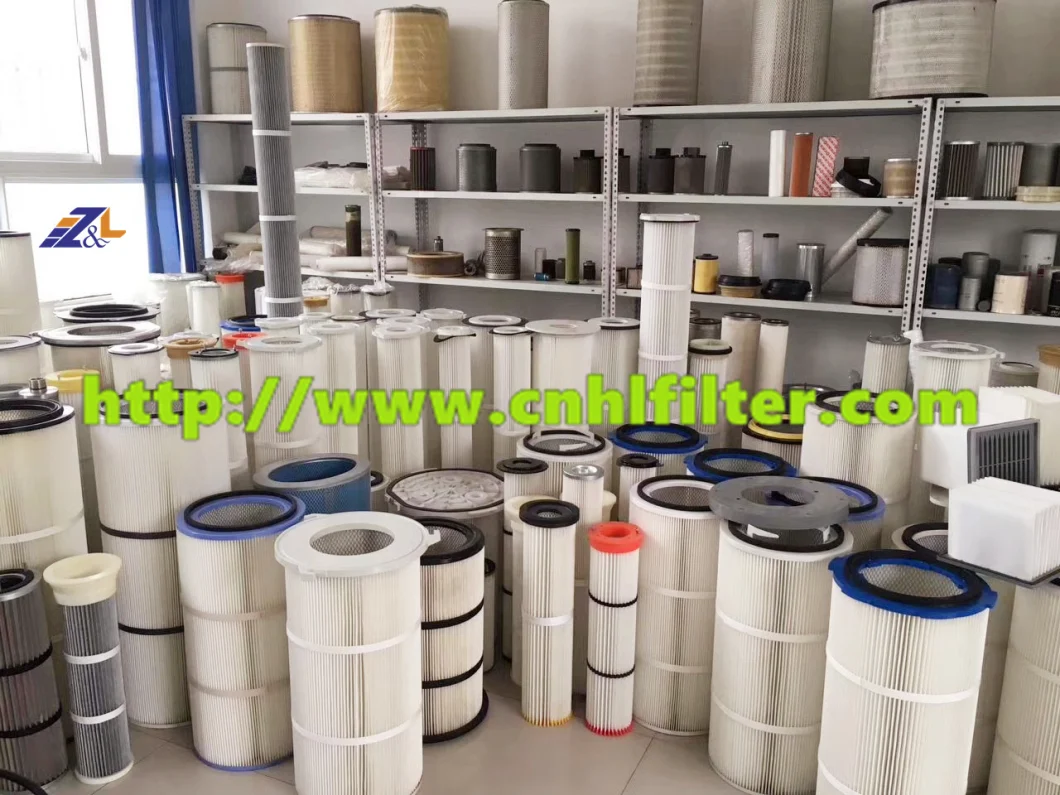 Product Introduction:
Maximum Performance Glass Hydraulic Spin-on Filter HF29000
Hydraulic Filter 87708150
Air Filter P606119 AL119839 AL172780 AF26157 SL82001
Air Filter 21337557
Air Filter P622091
Cabin Air Filter 71LB00290
Cabin Air Filter 95981206
Cabin Air Filter 272774BU0A
Fuel Filter 16900S84G01
Cabin Air Filter FR3Z19N619A
Hydraulic Filter 4129280
Auto Air Filter 28113-B1000 28113B1000
Cab Air Filter RE195491
Kit Oil Filter 3007498C93
Excavators Filter 14268262
Urea Filter 21516229
Air Filter 607179
Air Filter 11-7234 117234
Engine Oil Filter 179-1502 1791502
Hydraulic Filter 134-3014 1343014
Hydraulic Filter 143-2849 1432849
Hydraulic Oil Filter 4T-6915 4T6915
Hydraulic Oil Filters 132-8875 1328875
Hydraulic Oil Filters 1R-0719 1R0719
Fuel Filter 2304-1221 23041221
Filter 9451037407 253409110108 9451037404
Fuel Filter 16400-41B05
Fuel Filter 4F0201511C
Fuel Filter 23300-19285
Fuel Filter 16400-59A00
Fuel Filter 23390-OL010
Fuel Filter LF17-13-35ZA
Fuel Filter 17048-TAO-000
Fuel Filter 17040-JR50A
Fuel Filter 31112-4V000
Fuel Filter31911-0S000
Fuel Filter 23300-OL020
Fuel Filter 23300-23040
Hydraulic Filter 4205684
Cabin Air Filter 421-07-12312 4210712312
Power Generator Air Filter PA2680
Fuel Water Separator 79/1000FG
Loader Hydraulic Filter 4120001954
Oil Filter 90915-03002
Descriptions: Fuel
Filter 04504438 1037357
Product Services:
Fast delivery
Good quality
Lowest prices
Custom personalized demand
Small orders are accepted
Filters Application
Metallurgy industry, electronic industry, pharmaceutical industry, petroleum gasification,
thermal power, nuclear power, etc.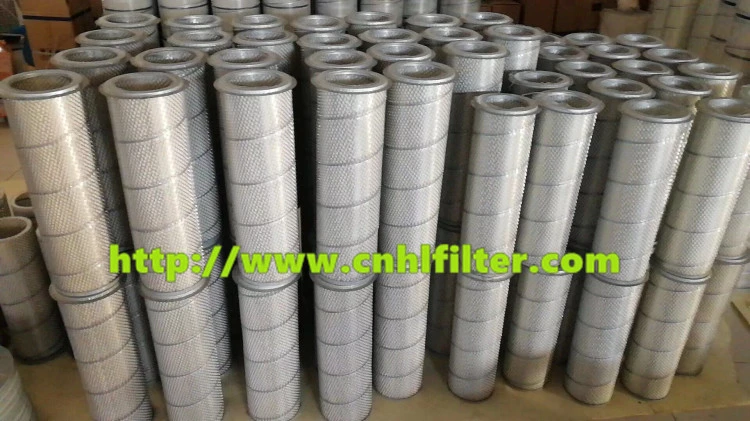 APPLICATION:
Our company also produces such foreign brands alternative filters:
AICHI COMMERCIAL HANOMAG MECALAC FILTREC HYDRAULICS
AKERMAN CRAVER HENGST MEILLER SOFRALUB
ALCO CROSLAND HIAB FOCO MENZI MUCK SOFRANCE
ALLIED SYSTEMS DEMAG HITZMANN MICROFILTER
PALL
ALLISON DENNIS EAGLE HY-PRO MITSUBISHI TADANO
ARBURG DIAMON HYCON MOOG
TAMROK
ARGO DOMANGE INTERNORMEN
PALL
TCM
ATESO DONALDSON HYDEMA NALG
TECNOCAR
ATLAS EFFER HYDRECO NAPA
TEREX
ATLAS-COPCO ELOX HYMAC NELSON WINSLOW TEXAX
ATLET EPPENSTEINER HYSTER NEW HOLLAND TOWMOTOR
BALDWIN FACET HYUNDAI NISSAN TRIBOGUARD
BAUSER FAE ESCAVATORI IHC NUOVO PIGNONE
BEA FILTRI FAIREY ARLON IHI O&K UCD UCC
Our Service:
Service Provide:
OEM ODM & OBM service, printing or logo information is acceptable.
Quality Guarantee:
All products have to pass strict inspection before they go out. If any problems caused
by the product itself, we will supply you the new replaced ones ASAP.
After-sales Service:
Any problems caused by using our products:
1) Keep the problem products and timely contact with us for better feedbacks.
2) Please do not damage problem products, if necessary, Send the
products and the attached oil and the coolant sample together to us for better analyzing
3) Attached with repair document, parts list, labor costs and any other materials which
can support a claim for compensation.
Our Products
Products Category: Air filter, oil filter, fuel filter, hydraulic filter, cabin filter, oil and water
separator, precision filter, spry painting dust recycling filter.
Product Application: Construction machinery. International models such as HITACHI, KATO,
KOMATSU, CATERPILLAR, SUMITOMO, VOLVO, HYUNDAI, DAEWOO, IHI, KAWASAKI, etc.
Domestic mode such as LIUGONG, XUGONG, YUCHAI, SANY, SGMA, SOOMLION,
WORLD, LISHIDE, KUBOTA, LOVOL, etc. Industrial machinery, bus, diesel generator,
air compressor, spark machine, wire cutting machine, air cleaning system and so on.
Perfect Details of The product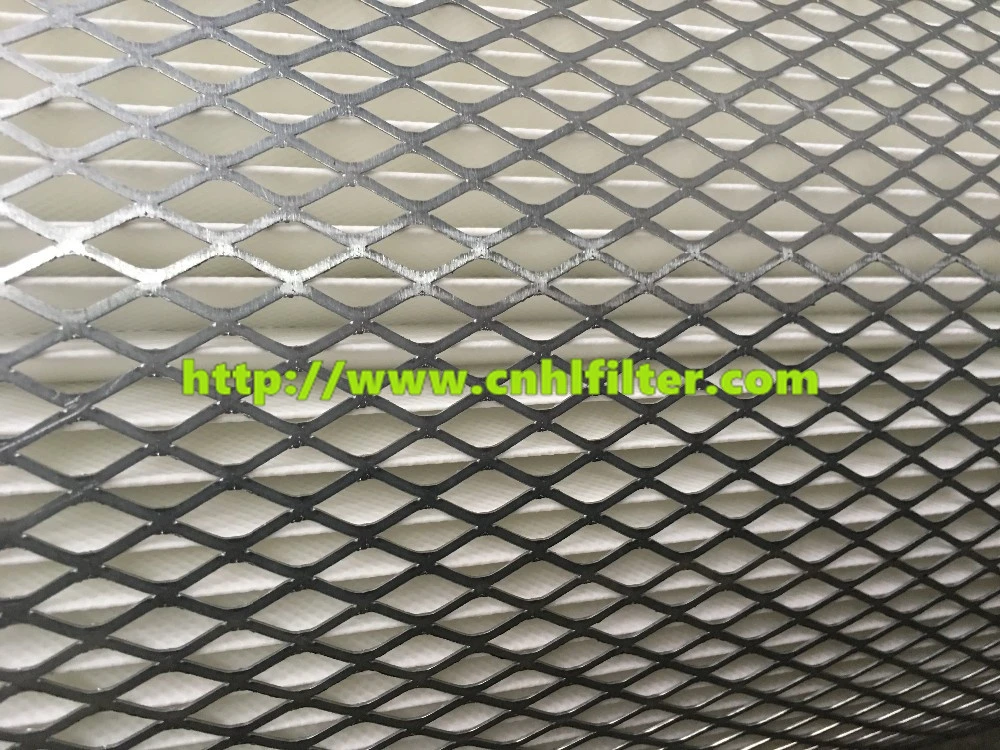 We also could supply many replacements,such as:
MF100-3-P10-NB replacement to MP FILTRI filter element
1.901-G40-A00-0-P replacement to EPE filter element
UC-2418 replacement to UCC filter element
1.1000H20XL-A00-0-V replacement to EPE filter element
SUS-200-B24-P-3-125 replacement to STAUFF filter element
TF-400X100 replacement to DELTECH return oil filters
HC9100FCN8H,HC9100FCP8H replacement to PALL filter element
HC9100FCS8H,HC9100FCT8H replacement to PALL filter element
V3.0510-03 replacement to ARGO filter element
why chose us?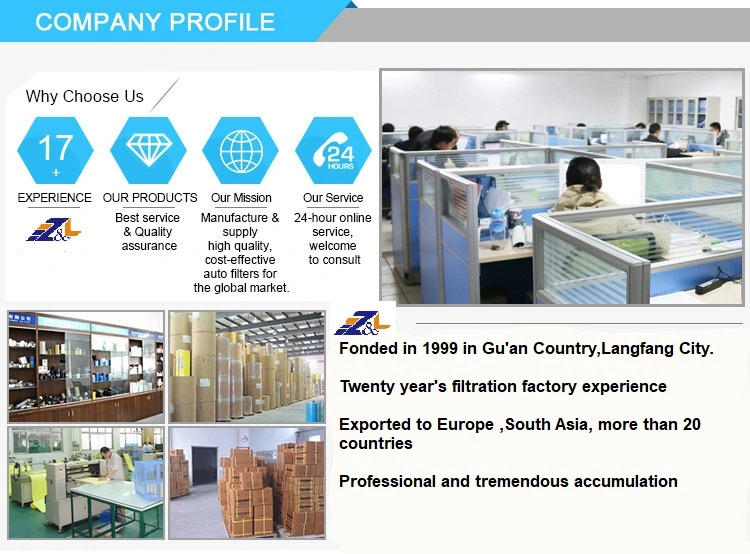 Manufacturer
Competitive price can be offered
Optimum paper folding
Large dust holding capacity
Good temperature resistance
Good anti-humidity performance
No distortion of pleats
Environmental Friendly
OEM & ODM Customized is accepted
On-time delivery
Durable and reliable
Economical,practical,and easy to install
High qualit auto car air filter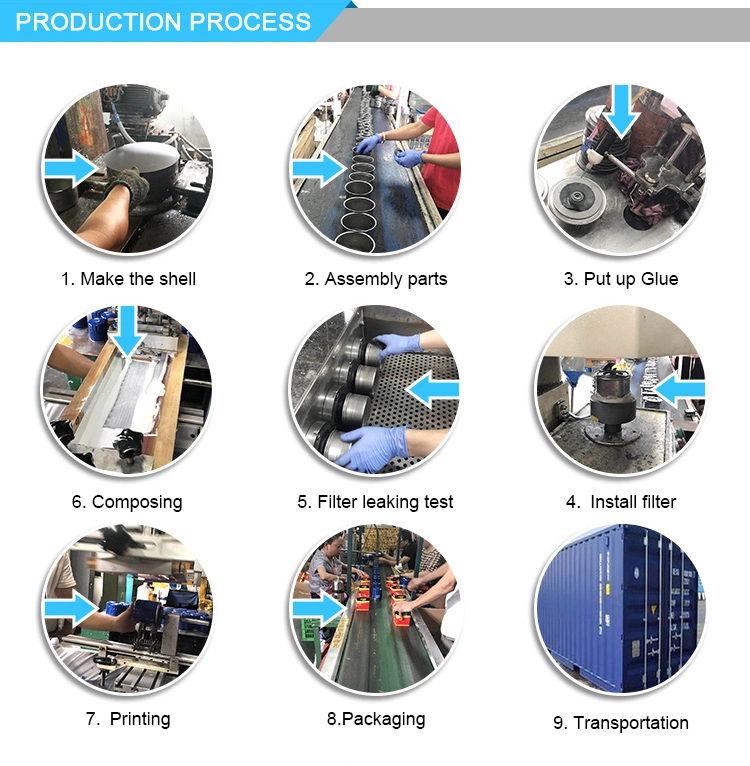 Filter Material:
1. Base media: Polyester 20% Cellulose 80%
2. Operating efficiency: 99.9% on 1 micron
3. Washable: Several times
4. Maximum operating temperature: 200oF/93oC
5. Abrasion resistance: Excellent
6. Chemical tolerance: Excellent
7. Optional flame retardant media(FR): To order
Other composition:
1. Gasket: Neoprene rubber, good at absolute hermetic seal, improving the durability
and life.
2. Inside cage: Galvanized steel, to prevent corrosion.
3. Molded top: Available in a varitety of styles and sizes to fit a wide range of
Tubesheet Holes.
4. Molded bottom: Helps resist abrasive wear at the bottom of the elements.
Applications:
1. Description: Excellent performance on moist, hygroscopic, or agglomerative dust.
2 Marktets: Thermal spray, welding, mining, chemical processing, metal buffing,
pharmaceutical,cement, woodworking and etc.
3. Dust types: Fumed silica, metallic fume, metallurgical powders, and etc.
4. Available for collectors: SFF/XLC, SFFK, Torit DFT
5. Substitute: Donaldson, Nodic, BHA
Notes:
1. Optional construction and dimensions are available on all cartridges.
2. Please contact us to make optimal filtration solutions of your applications.
Our Market: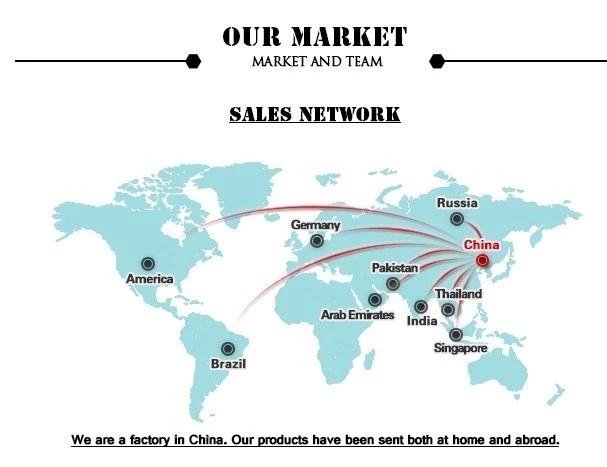 If any inquiry ,please contact us right now!